Campsite with
2 pumptracks
The playground was already very well equipped, but we still had space for a new activity: pumptrack.
Near the playground for the youngest, you can find a 65 m² track for the youngest, with 3 curves and many small bumps. Ideal with a draisienne, or other wheeled machines….
And a 370 m² track, between the tennis court and the zip line, with more relief, 1.20 m bumps to link jumps and transfers. In roller, skate, longboard, bmx, scooter, bike…, the idea is to move forward without pedaling, faster and faster, as the turns go by. These 2 tracks will surprise many children and parents, prepared by professionals. In addition to organizing the FISE of Montpellier, these riders, fans of board sports, build superb pumptracks accessible to all public, all generation and for the first time it will be on a campsite: The mas de la cam in Saint Jean du Gard!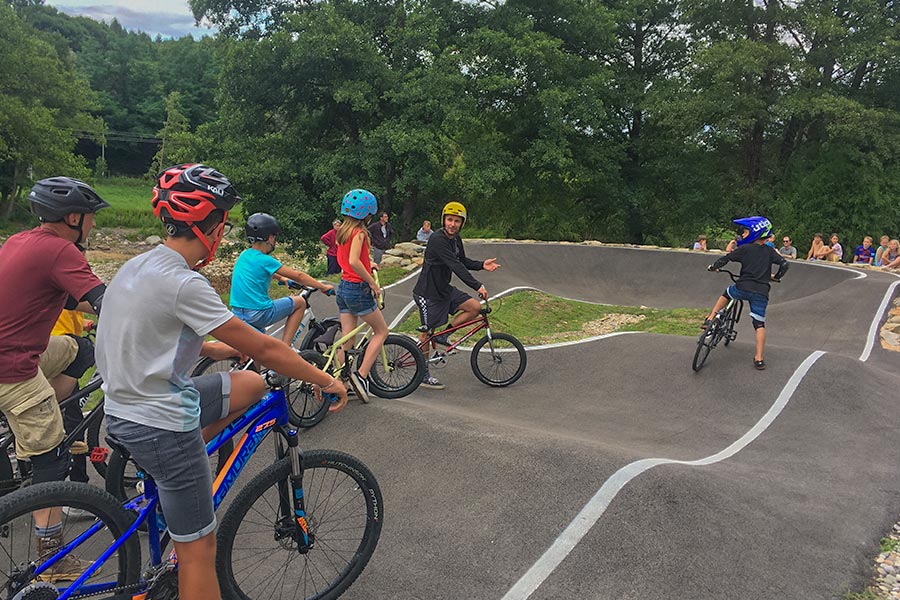 Discover the pumptrack of the campground
The design of the pumptrack track in the Mas de la Cam campsite was thought by professionals: Hurricane tracks, co-organizer of many sports events such as the FISE in Montpellier
The track is accessible to beginners, amateurs or professionals in board sports.
A 65 m² track, with 3 turns and many small bumps, is specially designed to start the activity in a safe and fun way.
For amateurs and professionals, there is also a 370 m² track.
The whole circuit, composed of reliefs and bumps up to 1.20 m high, allows to link jumps and transfers.
Experience the best of sensations in Saint Jean du Gard in the Cevennes.
What is pumptrack?
Pumptrack is a sport that offers extreme sensations to its practitioners. It mixes speed, waves and turns, which you can practice on the asphalt track in the Cevennes, in Saint Jean du Gard.
The pumptrack offers a special circuit for wheeled sports machines of all kinds: bikes, scooters, longboards, rollerblades, dirt…
Its particularity is to go through the circuit without pedaling or pushing. You only gain speed by pumping your body to maintain momentum.
These weight transfers are enough to go all the way around the course. Rollers and berms, which refer to the bumps and corners of the track, make up the structure. These are your primary sources of propulsion.
Pumptrack is an exciting activity that gives you a weightless, roller coaster-like sensation from top to bottom.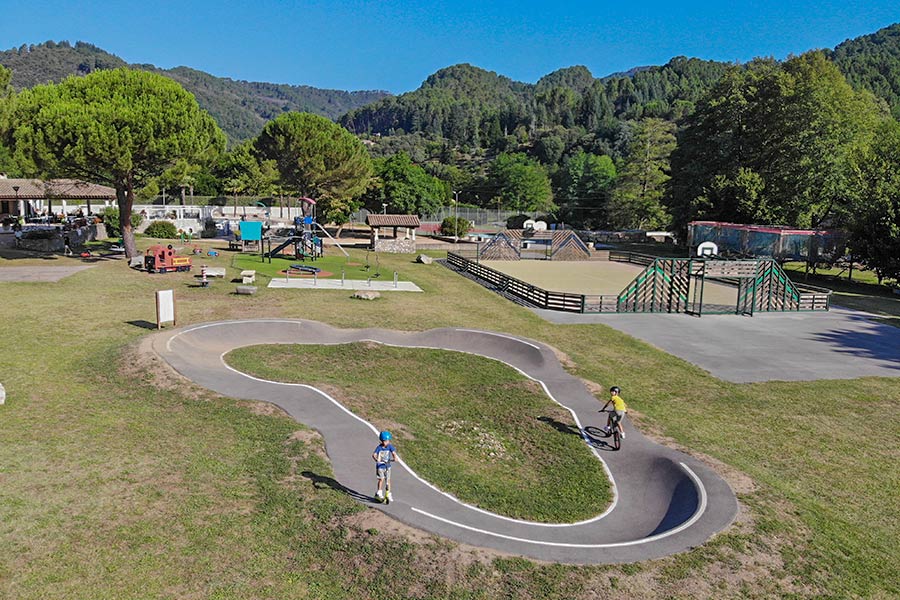 Our advice to practice pumptrack
Think safety. Proper equipment is essential before starting pumptrack: helmet, knee pads and gloves.
Use the right equipment to avoid failures and risky falls.
Learn the basic rules and master all the essential techniques to get used to this sport in a fun way.
Watch carefully and work on your posture. Don't rush your learning. Take the time to assimilate all the different scenarios.
Don't be put off by others on the track. Everyone had to start like you.
Be positive. This will ensure that you have a great day and get the most out of the activity.
Don't get caught up in the adrenaline. Know your limits. Master the course beforehand.
Take a break every now and then. Recover between each circuit. If necessary, eat a snack to build up your strength.
Drink plenty of water throughout the day to prevent your muscles from contracting too quickly.
As soon as you run out of strength, let the day end with a nice cold drink. This also allows you to exchange tips and tricks with other exercisers.

Enjoy a full range of activities and services